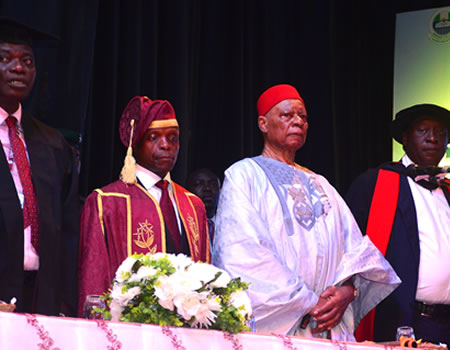 The Vice President, Prof Yemi Osinbajo, has restated the determination of Buharis administration to take Nigeria out of the comity of poor countries in a couple of years to come.
He gave the assurance on Monday in Lagos while delivering the 50th convocation lecture of the University of Lagos, UNILAG, Akoka, with former Pro-Chancellor of the institution, Chief Arthur Mbanefo as the chairman on the occasion, governor of Ekiti State, Dr Kayode Fayemi, Minister of Niger Delta Affairs, Mr Usani Uguru Usani, former Vice-Chancellor of UNILAG, Prof Ayo Ibidapo- Obe, Chairman of Governing Council, UNILAG, Dr Wale Babalakin, Vice-Chancellor, Prof Oluwatoyin Ogundipe; and the Executive Secretary of Tertiary Education Trust Fund (TETFund), Prof Sulaiman Bogoro were among eminent personalities also in attendance.
Speaking on Nigeria rising: The path to prosperity, Prof Osibajo, an alumnus of the university (1975 set), identified numerous areas cutting across major sectoral divisions of the economy as areas of priority and focus he said the government had already channelled resources towards in making Nigeria a prosperous country.
Some of these areas, according to him, including tackling of corruption especially in public service, decentralisation of power generating and distribution, concessionaire of air and seaports, provision of hard and soft infrastructure, democratisation of education sector, development of quality human capital, creating of enabling environment for small, medium and large scales industries to strive, provision of quality healthcare and social service scheme for the poorest, foreign investment attraction and huge investment in innovation and technology as well as agriculture and so forth.
While again and repeatedly blaming the past government for what he called their high level of corruption, Osibajo re-emphasised that the practice really and substantially drew Nigeria backward economically.
I know many dont want to hear this but it is a fact that the grand corruption of the past administration has really deplenished government revenue. And we should all pray never to experience such ill again in our country.
On power, the vice president said the decentralisation of power sources would give opportunities to organisations and industries to procure power for eventual distribution among consumers.
He stated that the exercise would make it much easier to enjoy power supply even to residential houses nationwide.
According to him, the ongoing solar system electrification project across various markets in the country is part of the measure to decentralise power generation in the country.
We are licensing companies to provide power to companies, markets and several economic clusters.
He, however, urged Nigerians for their full cooperation with and support to the government to be able to achieve the goals for all.
Speaking earlier, the chairman on the occasion, Chief Arthur Mbanefo, expressed displeasure over the high level of poverty and youth unemployment in the country, saying all indications from the National Bureau of Statistics pointing to that fact.
He said the government, in particular, would need to do something in concrete terms to make life more meaningful for Nigerians.